Sea ice seems the same on the surface
By Matthew Owens        April 13, 2013
        It's that time of year again, when a handful of terrified climate watchers pop some popcorn and sit back to watch the Arctic do its own snap and pop routine; the question on everyone's mind is "when is it gonna hit zero?" On the surface, the ice seems like last year. The sea-ice extent, area, and even volume are close to last year at this time. But last year was the worst decline on record. Those three indicators are only slightly below last year... so you might think that we'll see a similar melt to 2012's record low.
        This all matters quite a bit. The Arctic used to have ice cover all year long, kind of like in the image of 1982 above left (maps from Cryosphere Today). In winter, the sea ice would spread far out past Alaska. At the height of summer it never got much smaller than shown in that 1982 image. In all honesty, that 1982 extent is probably a bit lower than typical over the past centuries to millennia. As the image on the right shows, there's about 50% or more of the Arctic Ocean that was open water last summer. That translates to more atmospheric water vapor because sea ice cover prevents evaporation. All that extra water vapor carries heat energy with it and long story short - it really impacts northern hemisphere weather patterns. Image you go to the movies on a date, and a stranger sits between you and your date - on the armrest. All that extra water vapor changes things.
        Meanwhile the Antarctic has seen a slightly increased sea ice cover. In a way this is good for us because that little bit of extra sea ice down there keeps the planet just a touch cooler. It's like having the good fortune of getting run over by a truck and not having to go to work anymore. Have no fear, the Antarctic ice cap (not the floating sea ice part) is still melting like mad, contributing to sea level rise, and as Takvera explains: the slight increase in southern sea ice area of late is a actually side effect of the massive and highly alarming ice sheet melt down there.
        Below: back up north, the Arctic sea ice extent from the US National Snow and Ice Data Center. So far, it looks a lot like 2012 (chart should update automatically).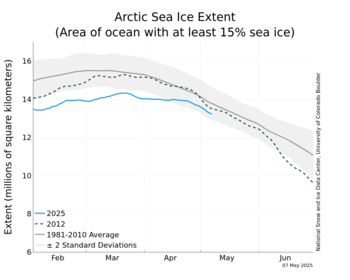 Beneath the surface data, the Arctic is showing what you could call unusual signs this year compared to last. At this point, it's a waste to say it's alarming because the whole situation is way past alarming. 
        First, there was a huge cracking event with enormous cracks miles wide and stretching practically across the entire Arctic Ocean. This sort of thing has happened before, but this time was especially early and severe. The event was a few weeks ago, and the giant cracks that opened up have since filled in with ice. That fill ice is much thinner however, than the surrounding ice. This sets the stage for easy breakage further into this year's melt season.
        Below: Here is a NASA image from just today where the largest currently visible open-ocean crack is about 2.2 km wide, but those much bigger ones that new ice froze into are also still visible. Thin ice is much more transparent (also absorbs a lot more solar energy): 
        Besides this nerve-wracking cracking, the amount of thick ice is exceptionally low, even compared to last year. It's this thicker ice, the stuff that's 3 meters (about 10 feet) thick or more, that really sticks around through the melt season. Back before this whole anthropogenic global warming mess started, there was a lot of what's called multi-year ice that would melt and thin just a little bit each summer, but then grow thicker in winter. So much ice would form that it basically overflowed, and ocean currents would carry that overflow to warmer spots. The ice is still being carried off today by those same currents, but that means double trouble since less ice now forms than is lost each year. Did I mention that open water - even a small area - enables deeper wind-driven ocean circulation, and that melts ice faster?  
        Below: a comparison of April 10th on 2011, 2012, and 2013. The sea ice is divided into two areas, 70N to 80N and 80N to 90N. White corresponds to the thickest ice at 4 to 5 meters and purple is 3 to 4 meters. Units are pixel area. I used this same method to compare a few other dates, and this date is representative of the current trend. Most notable is that this year has very much less of the thickest ice than 2012. Last year of course, was the worst melt yet. Click for a full size image.


         The purple 3 to 4 meters area in 2013 is also the area that was so seriously impacted by the cracking event.
        You may also be interested to read about western Greenland's exceptionally low snow-cover for this time of year, and other Greenland issues. "Greenland snow cover all wet this year," published April 1, 2013.